We are hiring!

Join us and start your new adventure.

i4B is a company created by enthusiasts of the electric vehicles auto parts industry. We are expanding and looking for new people.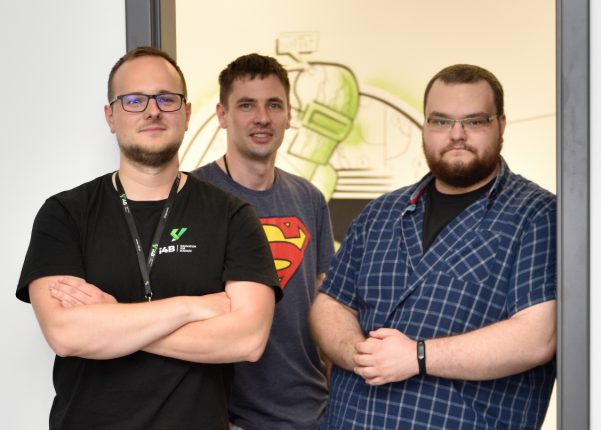 We are
currently looking for:
Internship

open positions:
Haven't found an offer

that suits you?

Don't worry send us your CV and we'll get back to you.
The
recruitment process

at i4b
CV review
Let us get to know you – send us your CV if you have found a job offer that is in line with your career path. Remember – it's a good idea to include information about your skills or completed projects that correspond to the requirements for a given position. Therefore, before you send us your CV, check the requirements in the description of the position you're applying for and describe your work experience accordingly. It will make it easier for us to review your application and speed up the process.
Screening call
After the CV submission stage is closed, a person responsible for the first stage of recruitment contacts the selected candidates to invite them to a short interview. The purpose of the meeting is to find out more about a candidate and learn about mutual expectations.
Interview
The next step in the recruitment process is an interview. During the meeting, we'll tell you more about the role on the team and answer your questions. We'll talk about your experience and subject matter expertise. Sometimes we want to learn more about your skills, so we will ask you to complete a small task. It allows us to get to know your way of thinking, working, and solving project problems. You may be asked questions about your work methodology, teamwork skills, and your grasp of the English language.
Decision
This is the final stage. We will invite you to one more meeting – this time with Daniel, our CEO. It's an opportunity to get to know each other, and check compatibility in terms of values and work culture, which has a significant influence on the final decision.
Next, we hold an internal meeting of people involved in the hiring process and analyze all the elements of your application. At this point, we make a final decision. If we decide to offer you the job, we will inform you immediately.
Welcome aboard!
Our benefits
It is worth working with us:
Flexible working hours
We start between 7:00 and 
9:00 a.m.
Training budget
Find an interesting course, send the information to the Line Manager, and sign up.
Eyeglasses subsidy
Order the glasses you need, ask for an invoice issued to i4B, and we will reimburse 50% of the cost.
Company integration
We like spending time together and we organize integration events: barbecue or annual team-building trip. It's on us!
Company library
We provide you with literature you are interested in. Find a book and send a link to Line Manager (ticket in Jira).
Designer interiors
To make you feel good at work. There are brainstorming and chillout areas you can use.
Language courses
You get access to the Tutlo platform where you can take unlimited individualized language courses.
Equipment
You receive computer equipment of your choice.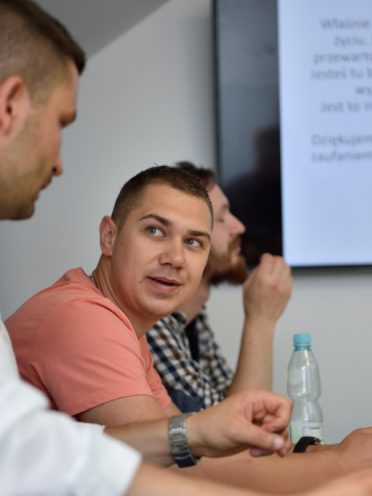 Meet our team.

Learn more.

i4B delivers stable IT solutions tailored to the needs of the growing electric vehicle market in a transparent and agile way. i4B is a team of passionate professionals.
Internship

program

Once a quarter (on February, May, July, October) we launch a paid internship program to spot new talents. The interns work on real projects. Those who perform well, get to stay with us permanently.

During the internship, you will gain experience as:
Backend developer – .NET,
Frontend developer – React,
DevOps – AWS, Linux, Windows Server,
Data analyst.
We consider applications on January, April, June, Septemeber. These are months before official launch a paid internship program.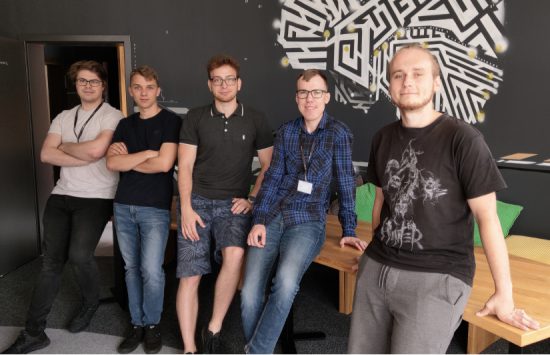 What does the internship entail?
An internship at i4b means working on a commercial project. You will:
Take part in the full cycle of product development,
Learn the SCRUM methodology in practice,
Get to know the latest technologies used in web applications,
Influence the better quality of the product by writing unit and acceptance tests,
Implement applications in testing and acceptance environments.
Your internship coordinator will be there to support you.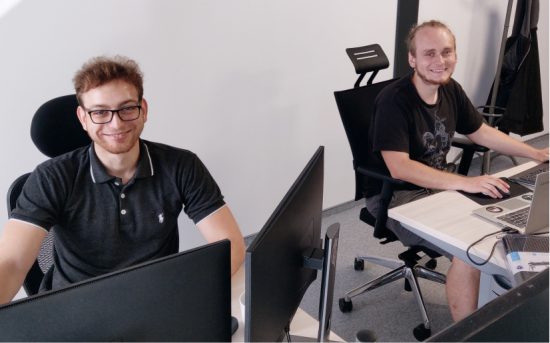 Do you have any questions?
Get in touch with us.